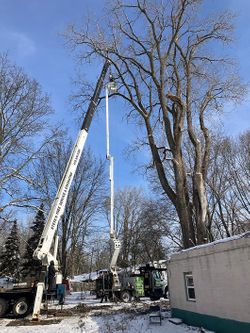 Dealing with difficult tree removal is not something any tree service can do. We have years of experience safely tackling some of the biggest trees in the tightest spaces with our crane assisted tree removal services. This is the most up to date, safest and efficient method to remove trees. It's also what we enjoy doing most! When using our cranes, we can delicately remove massive trees and effortlessly fly the huge pieces though the air and gently set them down in a safe drop zone.
If you have massive or hard to reach trees that need to be removed or trimmed back, turn to Steve's Tree Service to get the job done right. We own and operate both of our cranes to aid in difficult tree removal, which cuts down on labor time and greatly decreases the impact to the surrounding land and property. We also have experienced climbers, bucket trucks and use only the best top-of-the-line equipment.
If you need Crane Services or Tree Removal call Steve today!